Arch of Titus
Triumphal Arches or Arch of titus was invented by the Romans.This structure represent the emperor's triumphant.

The Arch of Titus was built to commemorate the titus's conquest of Judea whichended the Jewish wars. It was built on A.D. 81 and is made of marble, it is 15 m tall, high 50m and 12m of wide.

In the passageway Titus soldiers can be seen carrying the Jewish Wars.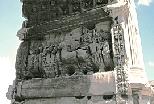 We can see the titus's army holding up its trophy.